IAPA names Ana Roy as #1 Analytics Leader for 2023
The Head of Analytics – Merchandise at Kmart takes top spot in the IAPA Top 25 Analytics Leaders Awards
Sydney, NSW – 15 June 2023 – The Institute of Analytics Professionals of Australia (IAPA), Australia's dedicated analytics association, last night announced Ana Roy, Head of Analytics – Merchandise at Kmart as the number one Analytics Leader in its Top 25 Analytics Leaders award program. It is the first time a woman has been ranked number one in the six years of the program.
IAPA is the peak body for data and analytics in Australia, incorporating data analytics, data science and analytics-driven insights for better business decisions. This is the sixth year of the Top 25 Analytics Leaders Program recognising excellence in analytics leadership.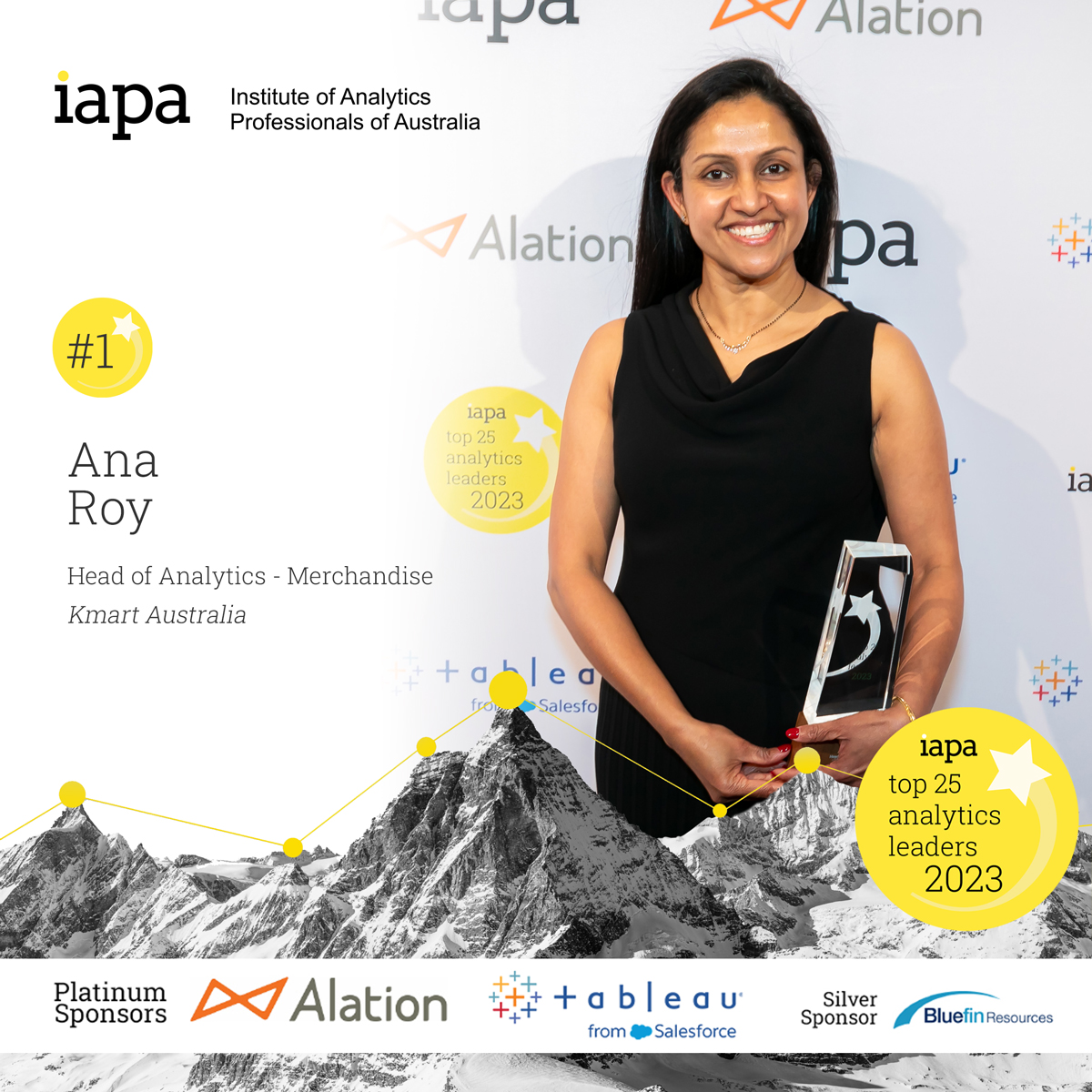 "In the six years of recognising excellence in analytics leadership, 2023 is marked by a maturing and genuine acknowledgement of the value of analytics to business," said Annette Slunjski, IAPA Managing Director. "This year's Top 25, and especially the Top 10, have true c-suite support as analytics delivers real-world outcomes that move the needle in terms of revenue, cost containment or better business models."
Women featured in the Top 5 in 2023
This year's cohort features three women analytics leaders in the top 5 from Kmart, Assignar and the Australian Broadcasting Corporation (ABC); and another six women analytics leaders in the Top 25. In addition to Ana Roy named as number one for 2023, Duhita Khadepau, Director, Analytics and Data Science at Assignar was named number 3 and Elizabeth Moore, Head of Audience Data and Insights at ABC named number 5. Within the top 10, Susan Gibson, Head of Data Analytics and AI at the University of Technology Sydney was also named number 9 in Australia.
"The quality of nominations this year was outstanding," noted IAPA Chair, Antony Ugoni, Chief Data Officer at go1. "Selecting the Top 25 from the extremely strong field was challenging for the judging panel but also showed the maturity of analytics and data thinking in so many organisations. This year we saw a greater focus on impact and outcomes of analytics effort and the implementation of sophisticated analytics-driven solutions to business problems."
In judging Ana Roy as the number one Analytics Leader for 2023, the judges noted how the forecasting and pricing models that Ana and her team delivered enabled the Kmart merchandising team to deliver better business outcomes as a "everyday products at low prices" retailer.
In another first for the Top 25 program, IAPA awarded its first "APAC highly commended" for two entries with significant responsibility for the delivery of analytics insight in Australia but based outside Australia.
The IAPA Top 25 Analytics Leaders program is supported by platinum sponsors, Alation and Tableau from Salesforce and silver sponsors Bluefin Resources.
Analytics applicable to all industries
The 2023 cohort of top 25 leaders in analytics is represented by traditional analytics intensive industries such as financial services, utilities, retail and consulting. Refreshingly, the Top 10 was from a diverse range of industries, signposting the growing application of analytics across every industry and business model.
Judged by a panel of leading analytics and business leaders, the 2023 IAPA Top 25 Analytics Leaders recognises excellence in four key areas strategy and impact; influence and advocacy; innovation and improvement; and team growth and leadership. The 2023 judging panel included Antony Ugoni – Chief Data Officer, go1 and Chair, IAPA; Kathryn Gulifa – Head of Data & Analytics, catch and Deputy Chair, IAPA; Sandra Hogan, Founder, Amperfii (#2 in 2018 Top 25); Amie Scruton, Chief Financial Officer, Art Processors; Russell Hunter, ex-CEO, Cusoo (Top 25 in 2020); Andrew Ritchie, APAC Product Architect, Alation; Nina Nguyen, Senior Solution Architect, Tableau from Salesforce and Annette Slunjski, Managing Director, IAPA.
The top ten for 2023 are as follows:
Ana Roy - Head of Analytics - Merchandise, Kmart
Dhivian Govender - Chief Data, Analytics & Strategy Officer, recoveriescorp
Duhita Khadepau - Director, Analytics and Data Science, Assignar
Lionel Kho - Chief Strategy, Data and Analytics Officer (APAC), Mindshare
Elizabeth Moore - Head of Audience Data and Insights, Australian Broadcasting Corporation
Bobby Patel - General Manager - Data & Analytics, RAC WA
Artak Amirbekyan - Head of Data and Analytics, Transurban
Yalchin Oytam - Head of Clinical Insights and Analytics, SESLHD
Susan Louise Gibson - Head of Data Analytics and AI, University of Technology Sydney
Dominic O'Halloran - Head of Data and Analytics, MECCA Brands
A complete list of the IAPA Top 25 Analytics Leaders cohort for 2023 and the APAC highly commended additions can be found here.