Organisations with strong data science, analytics and business intelligence competencies, join IAPA as corporate members to demonstrate to staff and the public their commitment to enhancing analytics capability, advancing the careers of team members and promoting data-driven decision making.
IAPA corporate membership benefits accrue to the analytics-savvy organisation and all analytics team members* within the organisation; including the IAPA analytics credential.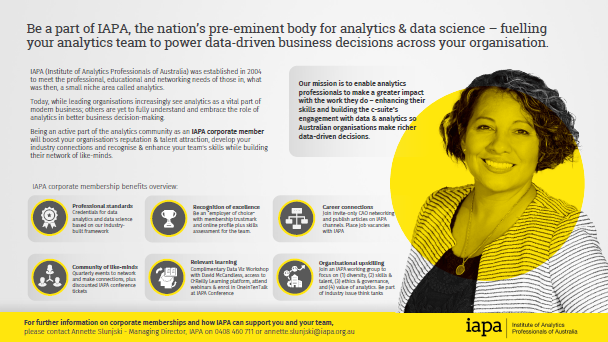 Get recognised
Qualify your team for an IAPA analytics credential
Your team can apply for a data scientist or data analyst credential, recognised by industry as evidence of your skills and competencies
Build your profile as an employer of choice
An online employer page provides a place to showcase your organisation to data and analytics professionals
Include online recruitment advertisements for no additional cost (12pa)
Feature your organisation in the IAPA newsletter annually

Demonstrate your organisation's commitment to data-driven business with a CEO interview (video) on your employer page
Demonstrate your analytics pedigree via the provision of industry view articles for the website and newsletter
Benchmark the career progression of your team using the included skills assessment
Include the application for an IAPA analytics credential as an employee benefit* to team members
Use the IAPA corporate member seal on corporate communications to demonstrate your commitment to the analytics community
Access to the "Brightest Minds in the Boardroom" program
Featuring global brightest minds who present to your board their experience of the benefits and the steps to become a data-driven organisation
Provision of 'grow your own analytics' guidance
Via industry best-practice reports, emerging global trends and case studies

Showcase the skills and talents of team members

Via an online member profile in the IAPA member directory
Team can use the IAPA corporate team member seal
On resumes, applications and LinkedIn as a public demonstration of your commitment to the analytics community
Learn skills
Access online skills assessment for your team
Match team skills to a competency framework to better understand strengths, gaps and most relevant analytics credential (available mid 2023)
Benchmark team using available assets**
Analyse and understand how to develop your staff into a high-performance team
Receive IAPA National Conference member rate tickets
Receive a 25% member discount on any tickets to the IAPA National Conference
Receive member rates for in-person and online IAPA education courses
Get preferential rates for any IAPA analytics or data course
Get 30 days free access to the O'Reilly Learning Platform for all your corporate team members
Access events, courses, books and technical certification prep materials for one month free and then save 10% on any O'Reilly access agreement. See more information and terms here.

Lead the industry
Provide feedback and suggestions into credential development
Be part of the industry defined credentials for analytics, data science and data engineering
Representative in analytics working groups and think tanks
Play a part in setting the agenda and topics for community focus and discussion
Prove industry leadership as part of the IAPA industry internship program
Connecting analytics students to real-world experience (when active)
Access to industry think tank discussion groups and events
Discuss topical issues and network with like-minded peers
Representative in analytics working groups and think tanks
Play a part in setting the agenda and topics for community focus and discussion

Know more
Access to the annual Skills and Salary Survey results
Check skills and salary by industry, role and experience
Access two research papers on industry-wide issues
Exclusive access to research papers on topics relevant to the analytics field
Receive the monthly IAPA newsletter
Straight into your inbox, the monthly newsletter features IAPA news and events as well as articles of interest to the analytics community
Increase understanding of global issues and advancements
Read detailed interviews from global brightest minds in analytics

Connect & network
Invitation-only CAO lunch
Held twice a year, CAO or Head of Analytics gather for lunch to share and discuss challenges with the agenda set by the CAO or Head of Analytics (Chatham House)***
Access to four chapter events annually
Team members can freely attend all four events in their state

Have an industry voice
Industry voice in federal, state and local governments
Have a representative voice at all levels of government regarding opportunities and regulations in data, digital, analytics and privacy
* corporate membership includes a set number of online skills assessments and credentials based on organisational tier
** additional consulting fees are applicable
*** as an industry-only event (i.e. no vendors or sponsors), a small per person fee is applicable for attendees
Membership fee
Membership fees are based on team size tiers starting from $3,785+gst annually.
Please contact IAPA for more information on corporate membership for your organisation, including fees.
Corporate Membership Inquiry Form
Please fill out the form below and one of our team members will get back to you shortly.